To support capacity building, training and technical support initiatives in the East African region, SMART maintains a local presence through its Nairobi-based office. To date, the regional SMART team has worked directly to support nutritional assessment needs across East Africa, notably in Kenya, South Sudan, Somalia, Tanzania and Ethiopia.
For more information, please contact Kennedy Musumba at kmusumba@actioncontrelafaim.ca.
Background
To meet partners' suggestions that closer ground support should be provided to agencies, SMART East Africa was established November 2013 to work with country level structures such as national level health, surveillance, information management and food security working groups to share information, promote SMART and support their technical SMART needs.
An official launch of SMART East Africa took place in November 2013 at the Nutrition Core Group Meeting, which exists within the Regional Food Security and Nutrition Working Group managed by UNICEF, ACF and FAO. Partners and donors participated in this meeting to better understand the objectives of the SMART project at both regional and global levels. To ensure transparency in decision making and identify key priority areas, a mapping of regional country needs and demands regarding SMART was carried out at the beginning of the project.
As the representative of SMART to all nutrition agencies in the region, SMART East Africa provides technical guidance and organizes capacity building events in the region.
Capacity building
A key mandate of SMART East Africa is to build SMART capacity in the region. Beneficiaries of various levels of trainings and other capacity building events include INGOs, national NGOs, multilateral organizations, and, importantly, government departments working in nutrition and health.
Recent capacity building events
Field supervisor and survey manager trainings
Since 2014, SMART East Africa has facilitated the following capacity building events with a focus on survey manager and field supervisor trainings.
   Nairobi, Kenya (August 2016) – Survey manager
   Nairobi, Kenya (July 2016) – Survey manager
   Nicosia, Cyprus (July  2016) – Survey manager
   Kathmandu, Nepal (March, 2016) – Survey manager
   Kabul, Afghanistan (February 2016) – Survey manager
   Maanzoni, Kenya (February 2016) – Survey manager
   Nairobi, Kenya (September 2015) – Field supervisor
   Juba, South Sudan (May 2015) – Survey manager
   Nairobi, Kenya (February 2015) – Survey manager
   Juba, South Sudan (December 2014) – Field supervisor
   Aweil, South Sudan (November 2014) – Field supervisor
   Juba, South Sudan (September 2014) – Survey manager
   Dadaab, Kenya (August 2014) – Field supervisor
   Burundi (May 2014) – Field supervisor
   Nairobi, Kenya (May 2014) – Field supervisor
   Nairobi, Kenya (March 2014) – Survey manager
Master Trainer
Master trainers are developed to ensure a sustainable cohort of technical professionals with the ability to co-facilitate trainings and build capacity in conducting SMART surveys in stakeholders that use the methodology. A SMART master trainer is an individual who has the technical ability and experience in conducting surveys and the skillset to train other survey managers in the SMART methodology.
A master trainer course was held in Nairobi in March 2015 for nine participants, and helped develop their training skills to be able to communicate the complex statistical concepts of SMART.
Technical support
The SMART Regional Coordinator provides technical guidance and support in developing survey protocols and assisting in anthropometry training needs for National-level surveys, while engaging with a range of regional consortia and coordination groups. 
Recent events
East Africa Region SMART meeting (January 2015)
Organized by ACF Canada as the SMART Project convener and UNICEF ESARO, the workshop was held in Nairobi, Kenya from January 28-30th.
The objectives of the meeting were to share technical updates from SMART, share lessons learned, and identify priority needs in the region.
Workshop participants included key stakeholders from across the region with emphasis being given to government staff for sustainability purposes and UN agencies/development partners.
Presentations were given on the recent National SMART survey in Tanzania, Kenya's experience with nutrition technical support during their 2013 DHS, and Tanzania's experience with their National Nutrition Survey.
The SMART team at ACF-CA presented the availability of modules for different training levels including Master Trainer course, Survey Manager, Field Supervisor and Enumerator level trainings.
UNICEF ESARO affirmed their commitment for SMART initiatives in the region with an increased focus on national authorities for sustainability.
Key outputs of the meeting include:

A guidance note for the development of the mortality plausibility check;
Identification of specific needs and priorities for countries in terms of capacity building, technical support, capacity building and technology & research;

 For more information, please see the meeting report.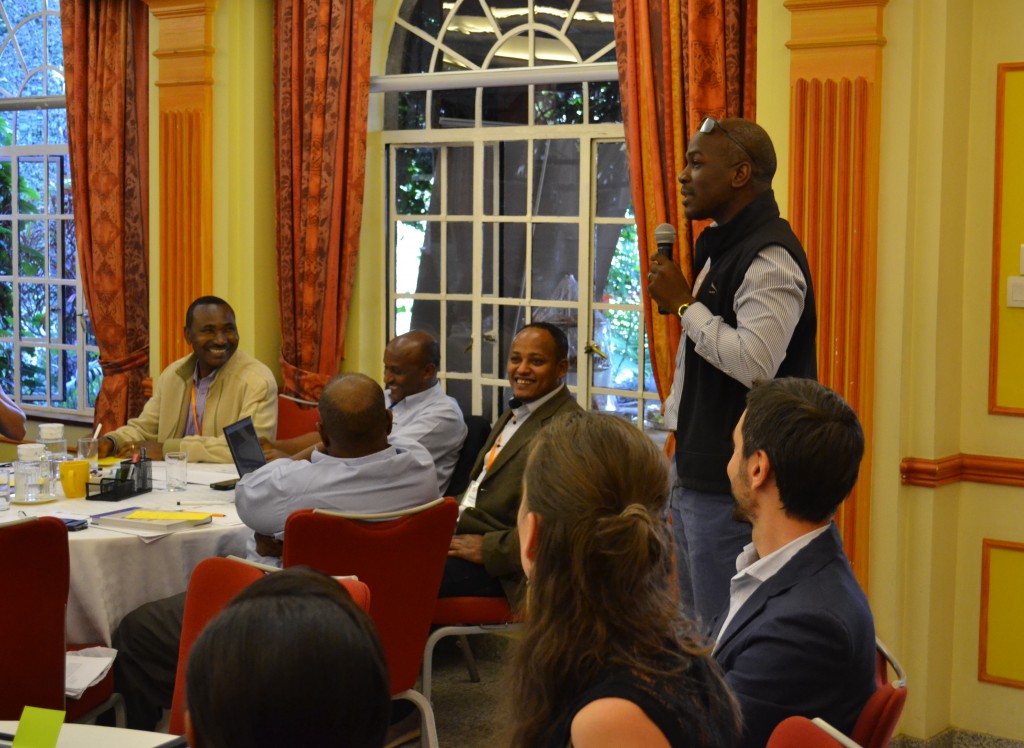 Technical support for the first National SMART Survey in Tanzania (August – November 2014)
The SMART team at ACF-CA was involved with the process of developing and implementing the first-ever national SMART Survey in Tanzania (August-November 2014), providing technical support for training of government staff and enumerators and for survey data analysis. The final survey results can be found here.
Technical support to the Nutrition Division of Kenya's Ministry of Health for the DHS survey (June 2014)
The SMART team at ACF-CA supported the development of manuals, tools, training, standardization, and data collection supervision for 336 enumerators through a collaboration with the Ministry of Health for a DHS in Kenya (June 2014).